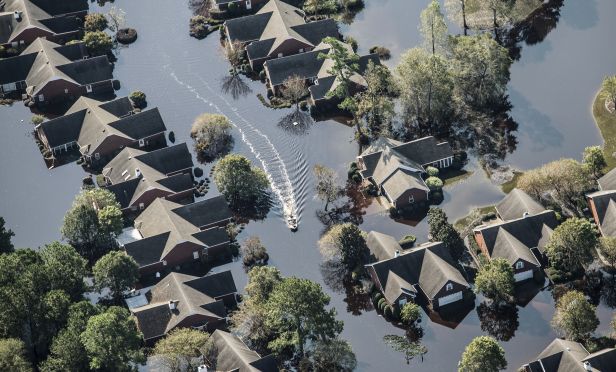 A boat makes it way past flooded property after Hurricane Florence past through Wallace, in North Carolina, U.S., on Friday, Sept. 21, 2018. (Photographer: Alex Wroblewski/Bloomberg)
Florida Congressman Charlie Crist (D-St. Petersburg) introduced legislation designed to drive down flood insurance premiums by creating a low-interest loan program to help property owners better flood-proof their homes and businesses, protecting property and ultimately reducing post-disaster claims and recovery costs.
The State Flood Mitigation Revolving Fund Act of 2019 has the support of Pew Charitable Trusts, Natural Resources Defense Council, Association of State Floodplain Managers, Property Casualty Insurance Association of America, Consumer Mortgage Coalition, The Nature Conservancy, Union of Concerned Scientists and others.
The bipartisan bill was introduced by Crist alongside Texas Representative Roger Williams.
Related: Flood insurance reform: Another year of storms and stalling
Reducing costs and protecting communities
Flooding is the most common and costliest natural disaster in the United States, straining local communities and businesses, taxpayers and the U.S. economy, and as climate change has made these events more frequent and severe, the need for reform has taken precedent for many in the legislature and the insurance community.
Reflecting on the devastating storms of the past several years, Rep. Crist says there is an urgent need for federal action on flood mitigation programs to reduce post-disaster costs, save taxpayer dollars, and build more resilient communities in the face of more extreme weather and rising sea levels.
Modeled after the successful Clean Water and Drinking Water State Revolving Loan Funds, the State Flood Mitigation Revolving Fund Act would establish a state revolving loan program to help fund flood mitigation projects for homeowners, businesses, nonprofits, and communities.
The program would allow states to offer low-interest loans to NFIP participants for flood mitigation projects to better protect their properties, reducing post-disaster claims. For those participating in the program, FEMA would offer NFIP premium reductions in line with mitigation efforts taken.
Industry support for reform
Supporting their cause, hazard mitigation has proven to be cost effective. According to a 2018 report by the National Institute of Building Sciences, for every dollar spent on hazard mitigation, the nation saves $6 in post-disaster costs. The benefits come largely from avoided property damage, casualties associated with storms, and savings when businesses and communities can quickly return to normal following a flood event.
Laura Lightbody, Project Director for Pew Charitable Trust's Flood Prepared Communities Initiative, extends her support of the bill, citing research that shows the demand for flood mitigation has outpaced available funding.
Lightbody says this shortage leaves states and communities without adequate resources to reduce flood impacts on their neighborhoods, infrastructure, and economies. The State Flood Mitigation Revolving Fund Act, she says, would provide a much-needed tool to help localities prepare for flooding and minimize rebuilding costs afterward.
Related: Insurance rates seen rising in flood-prone areas with Trump plan